Sunny Queen Australia, officially opened its world-first production facility delivering pioneering egg products last week. The Head Office and Production Facility, launching in Carole Park, Queensland, puts a spotlight on the truly unique technology being employed by the company.
The facility develops a range of innovative, ready to serve, egg dishes that are fully cooked or pasteurised, then snap frozen, and has been hailed as a coup for driving global agricultural advances. Wiley are proud to have delivered the Production Facility portion of the project.
Following a three-month value engineering process, Wiley were appointed responsibility for design of the structural elements and also oversight of the integration of the value engineered proposals into the construction documents to help control project costs for the Production Facility. Wiley took an active role in monitoring the design with a view to identifying further cost savings throughout the project.
Wiley Managing Director, Tom was on hand to congratulate Sunny Queen Australia at the opening of their innovative meal solution facility.
" I was excited to attend the opening to celebrate with Sunny Queen Australia, hear from John O'Hara the story of the project journey from an idea to an amazing result and sample the quality products produced on site. We are pleased to have been part of a fantastic Queensland success story, having delivered the Production Facility. I offer my congratulations to John and the Sunny Queen Australia team. They are leading the way to meeting ever-increasing food demands in Australia, in Asia and globally" said Tom.
Managing Director of Sunny Queen Australia, John O'Hara, says the $40 million+ plant is the only one of its kind able to produce 1,100 tonnes of product per annum for delivery Australia wide.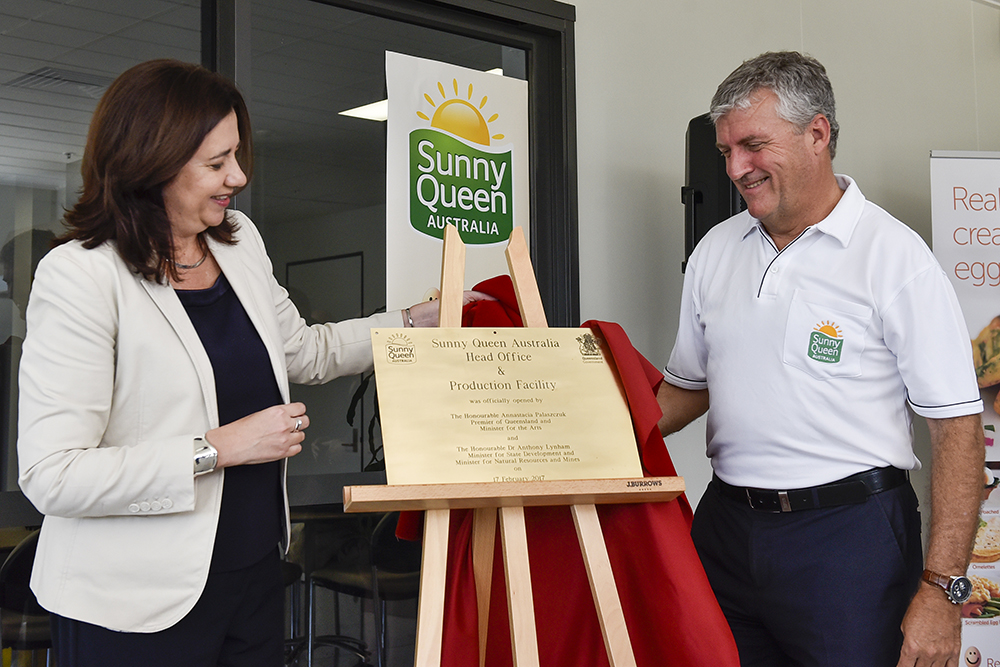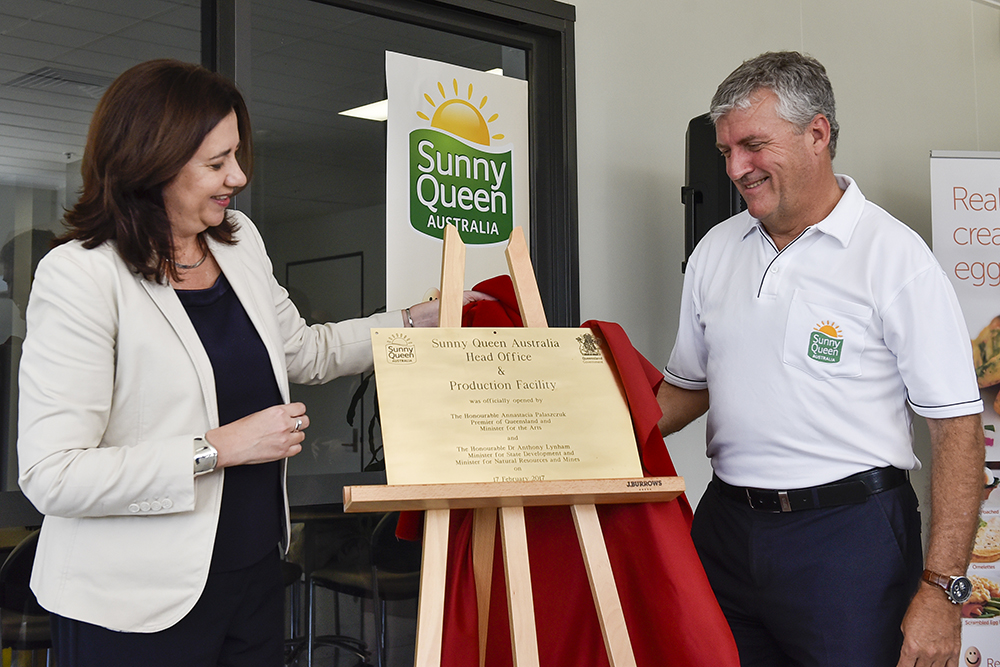 "This 2,200 sm facility is a testament to all the staff who work here and the commitment to research and development with the help of the Queensland government," says Mr O'Hara. "We have spent years working on our unique processes, unmatched by any of our competitors around the world.  This has seen our business flourish not only here in Australia, but to export markets who look to us to deliver good quality, tasty, safe and nutritious options to the food service market."
Sunny Queen Australia was the first Australian egg company to launch nationally across Australia, and exports its eggs and value-added Meal Solutions into Hong Kong, Macau and the Middle East.
Its Meal Solutions are a fundamental staple to commercial sectors including health and aged care services, food services companies catering for large groups such as the defence force, mining companies, workplace cafeterias and airlines.
"From small beginnings, we are now a world leader in producing a safe, convenient and tasty food for all to enjoy," says John O'Hara. "The launch of this incredible production facility continues our mission in producing quality Meal Solutions."
Explore the project HERE: