Wiley, food industry leaders in design and construction, have won the Queensland Master Builder's Brisbane Regional Award for "Excellence in Sustainable Building" at last Friday night's gala awards dinner.
The award celebrates the outstanding level of environmental design and retro greening techniques employed during the year-long redevelopment of the Brisbane Market's Building F (re-launched as the Fresh Centre). Building F was originally built in 1964 to house a banana ripening and warehouse space with basic offices.
In accepting the award, Project Manager, Barry Murphy said, "This award is validation of the hard work and brave decisions made by the client and the Wiley team during our intensive early discovery phase. During which, we set a strong benchmark for recycling everything we could from the existing structure to provide the entire project with the most sustainable foundation moving forward."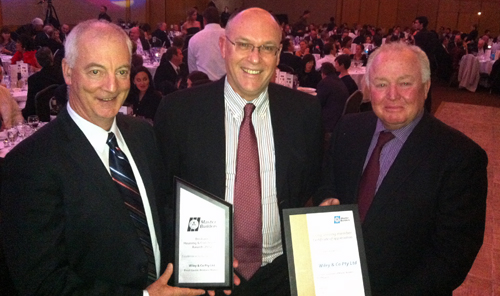 Left to Right: Barry Murphy (Wiley), Andrew Young (BML), David Melling (Wiley)
"One of the biggest challenges of the project was designing an environmentally sound and sustainable solution to cooling the building." Barry further explained, "we achieved this by cutting two large light shafts through the second floor and the roof allowing access for natural light across all floors of the building."
Barry went on to describe how they installed a natural ventilation system which senses wind, rain, temperature and fire and would operate motorised louvers accordingly to naturally cool the concourse area on the ground floor and the common areas on level one. This system is then linked to the air conditioning in these areas telling it to shut down when the louvers are open thus saving power and prolonging the life span of the equipment.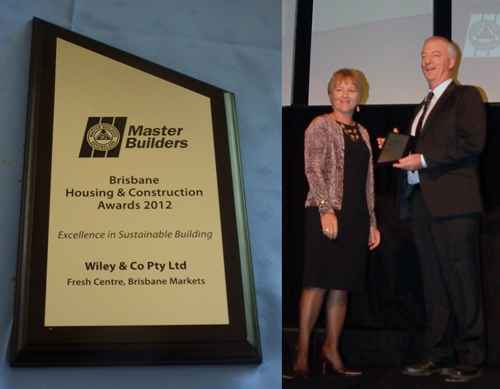 Other sustainable elements of the project include the installation of a new 22,500L in-ground storage tank to harvest roof water that will be used for irrigation of the new garden areas, including over 40 mature trees.
Wiley were also recognised at the event with a Certificate of Appreciation for being Master Builder members for 50 years.
Looking ahead, Wiley is now in the running for selection to compete at the State level. The winners of the State Awards will be announced at the Annual Dinner and State Housing & Construction Awards in September in Brisbane.
Photos of all the winning buildings have been posted on the Master Builder's website.
View the Fresh Centre gallery here.
Read the Brisbane Markets story on the award here.
Read how Wiley brought new life to an old building with the Fresh Centre refurbishment: Wiley Project Profile